Keto Chicken Fajita Bowls
I love how quick and easy this meal comes together! It's very high in protein and healthy fats, which leaves me feeling full and satisfied. Saute the chicken and bell peppers together and serve it with cauliflower rice and some avocado to make it a complete meal. The dish makes great leftovers too!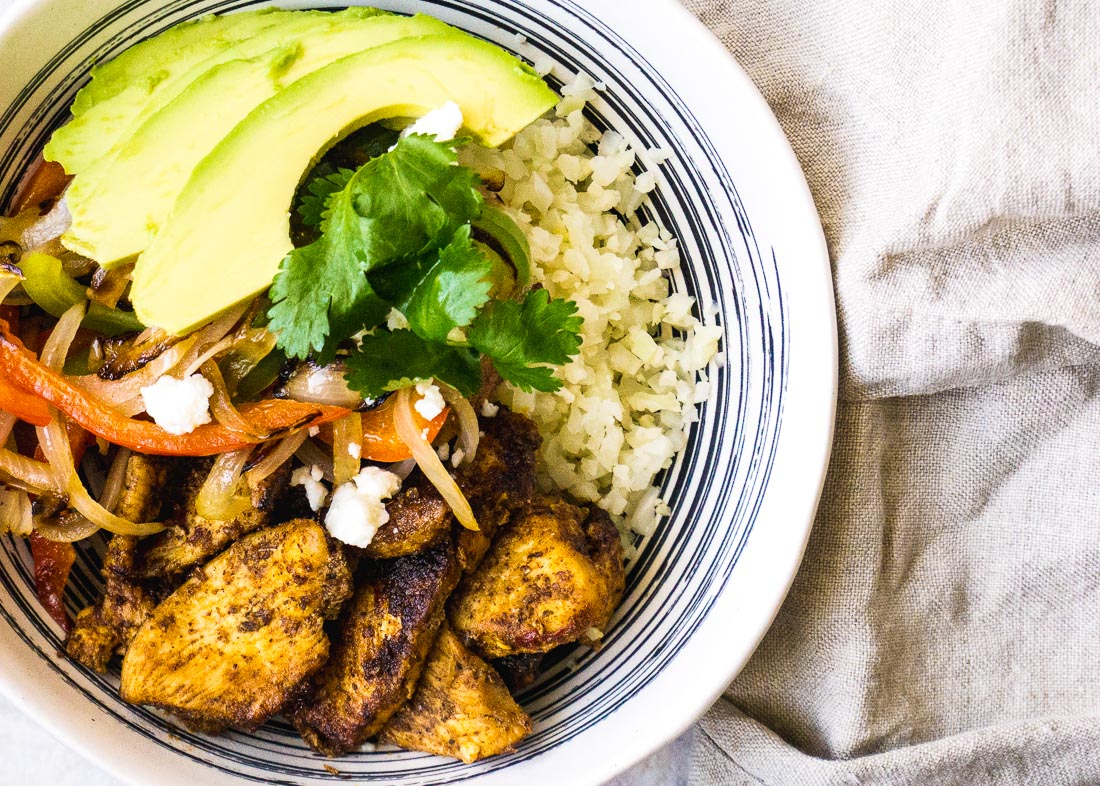 PREP TIME10 mins COOK TIME 10 mins TOTAL TIME 20 mins
INGREDIENTS
4
tbsp
Extra Virgin Olive Oil
INSTRUCTIONS
1.
Thinly slice chicken breast and add 2 tbsp olive oil, ground cumin, chili flakes, salt, garlic powder, chili powder, oregano, and black pepper. Let chicken marinate while you prep the other ingredients.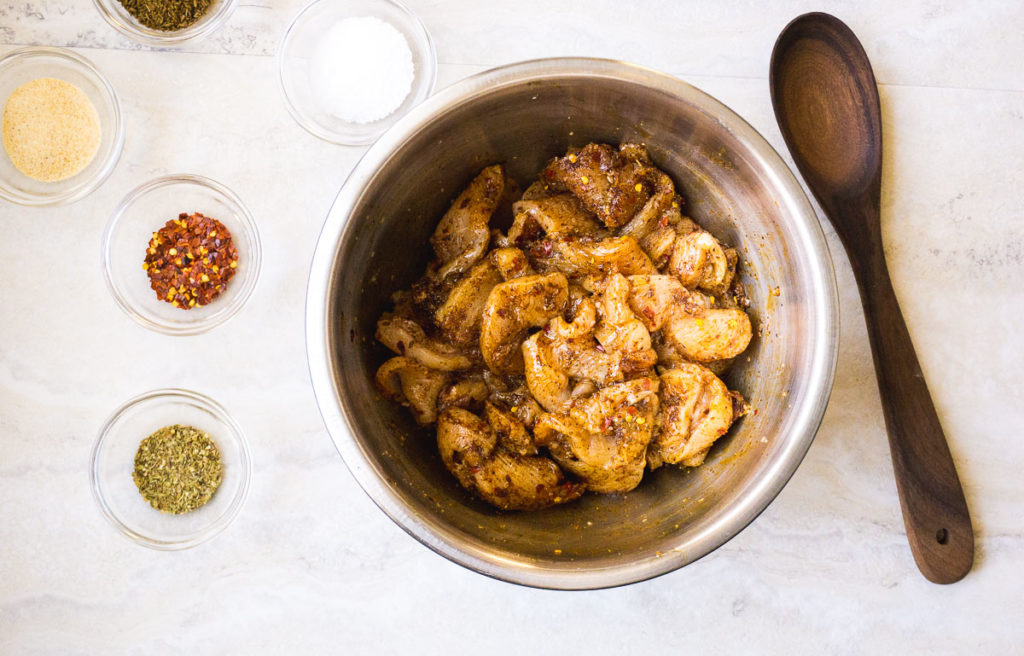 2
Slice the onion and bell peppers into thin slices.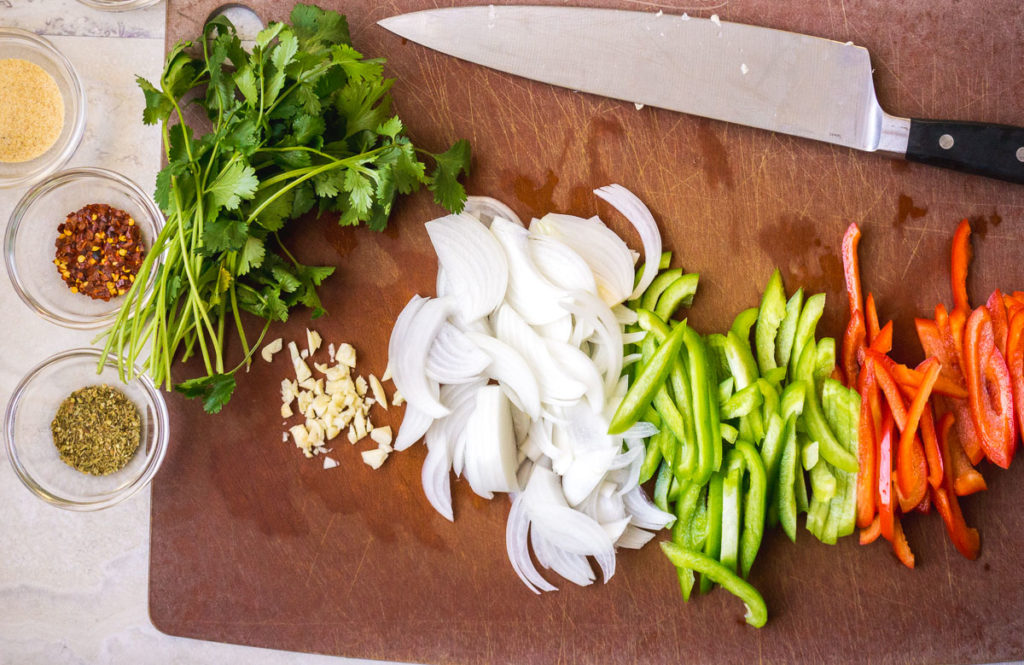 3
Over medium-high heat, heat a large saute pan. Add 1 tbsp olive oil. When oil is shimmering, add the onions and bell peppers. Give it a quick toss, then let the mixture sit with very minimal stirring. This will allow the mixture to develop some charring. Once cooked through, remove to a plate.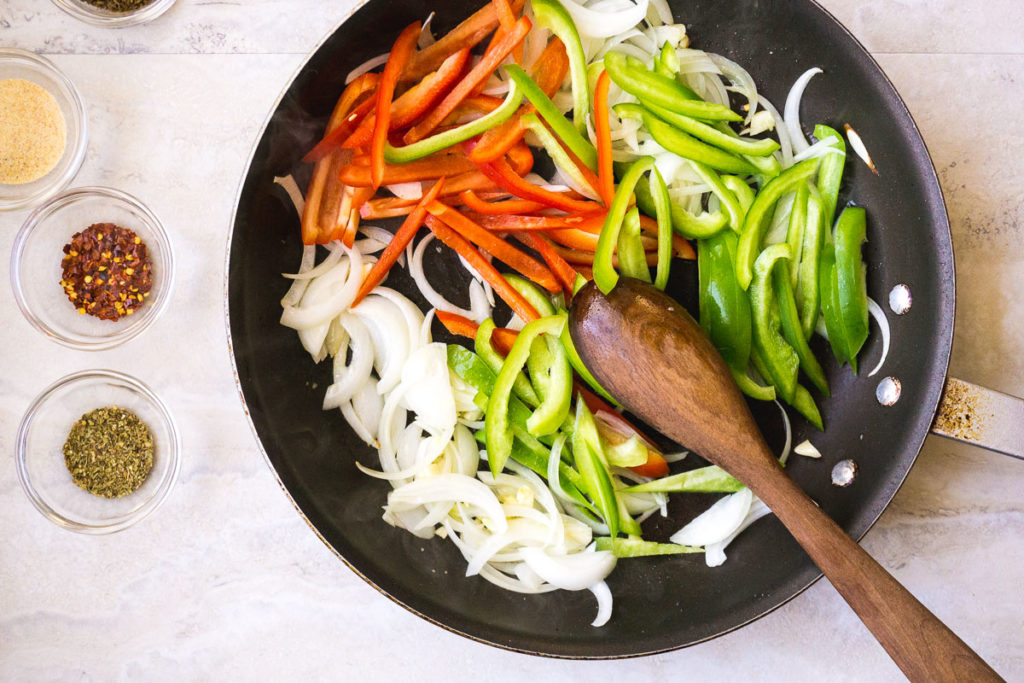 4
Add another 1 tbsp olive oil and marinated chicken breast to pan. Saute over medium-high heat with minimal stirring as well to develop some charring.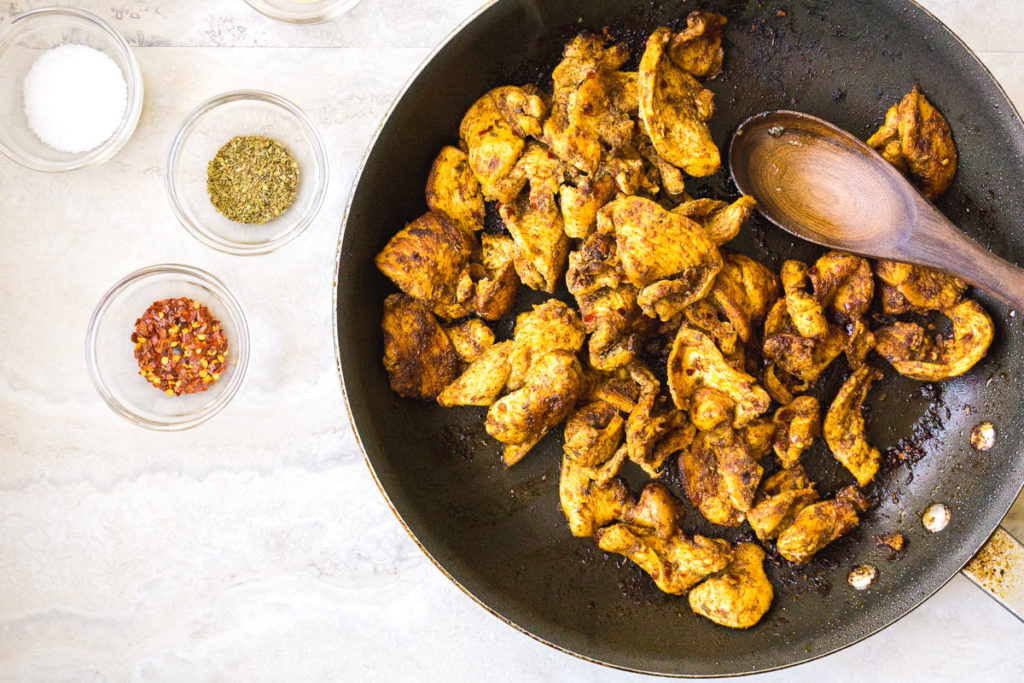 5
Once chicken is almost cooked though, toss in the onion and peppers. When chicken is cooked, serve over your favorite cauliflower rice with cilantro, cotija cheese, and low carb salsa.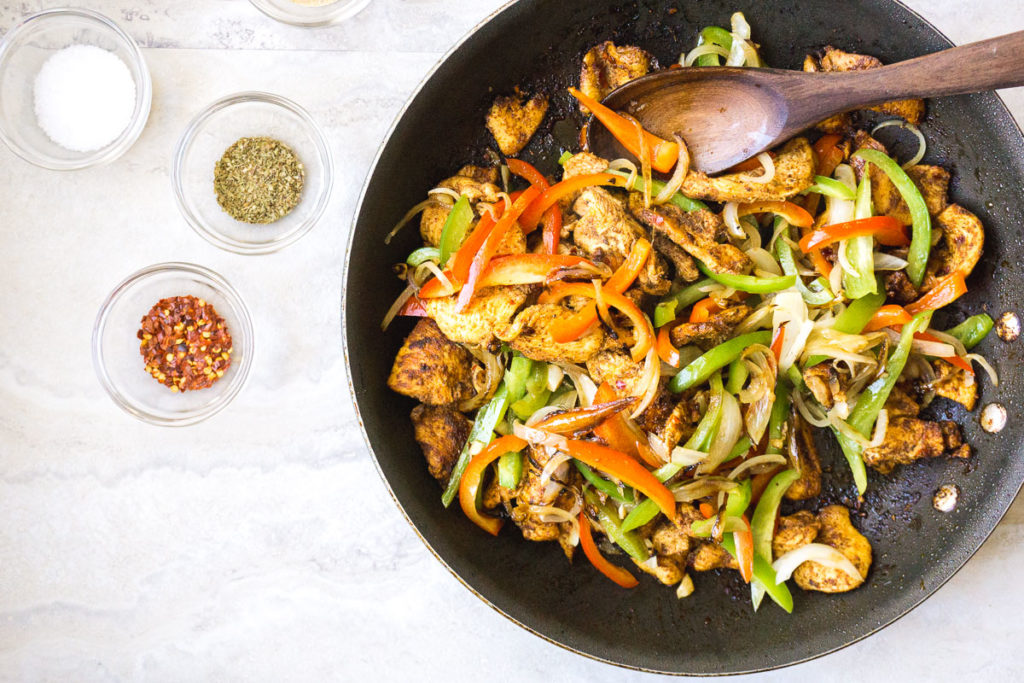 NUTRITION FACTS
| KETO CHICKEN FAJITA BOWLS | CALORIES | FATS(G) | CARBS(G) | FIBER(G) | NET CARBS(G) | PROTEIN(G) |
| --- | --- | --- | --- | --- | --- | --- |
| 2 lb Chicken Breast | 998 | 9.1 | 0 | 0 | 0 | 208.7 |
| 2 tbsp Extra Virgin Olive Oil | 239 | 27 | 0 | 0 | 0 | 0 |
| 1 1⁄2 tsp Ground Cumin | 12 | 0.7 | 1.4 | 0.3 | 1.1 | 0.6 |
| 1 1⁄2 tsp Chili Flakes | 0 | 0 | 0 | 0 | 0 | 0 |
| 1 1⁄2 tsp Kosher Salt | 0 | 0 | 0 | 0 | 0 | 0 |
| 1 1⁄2 tsp Garlic Powder | 14 | 0 | 3.1 | 0.4 | 2.7 | 0.7 |
| 1 tbsp Chili Powder | 21 | 1.1 | 3.7 | 2.6 | 1.1 | 1 |
| 1 tsp Oregano | 3 | 0.1 | 0.6 | 0.4 | 0.2 | 0.1 |
| 1⁄4 tsp Black Pepper | 1 | 0 | 0.4 | 0.1 | 0.3 | 0.1 |
| 1 cup Sliced White Onion | 46 | 0 | 11 | 2 | 9 | 1 |
| 1 large Red Bell Pepper | 43 | 0.5 | 7 | 3.3 | 4.7 | 1.6 |
| 1 large Green Bell Pepper | 33 | 0 | 7.5 | 2.8 | 4.7 | 1.5 |
| 2 tbsp Olive Oil | 239 | 27 | 0 | 0 | 0 | 0 |
| Totals | 1649 | 65.5 | 34.7 | 11.9 | 23.8 | 215.3 |
| Per Serving (/4) | 412 | 16.4 | 8.7 | 3.0 | 6.0 | 53.8 |