5 High Protein Keto And Low Carb Breakfast Ideas!
You've heard it before: Breakfast is the most important meal of the day.
It's especially important to make sure what you put into your body at the beginning of the day is good for you. Healthy breakfasts kick-start your metabolism and keep you focused and energized until lunchtime. And research has shown that eating a high protein breakfast keeps people fuller for longer, making it less likely you overeat later in the day. Protein also stimulates the metabolism.
Finding high protein, low carb breakfast recipes may seem daunting. Fortunately, there are dozens of healthy breakfast options that are delicious and easy to make. The right kind of calories—protein, healthy fat, and plenty of fiber—can make a major difference in the success of your weight loss program. Try the following low carb breakfast ideas to start your day off on the right foot:
COOKING TIP
Whether you're feeding a family or cooking for one, you can update the serving settings above to reveal the required amount of ingredients.
1. Eggs
Eggs are a power breakfast food for a reason. They're packed with protein and are versatile. Whether you scramble, hard boil, poach, fry, or bake them into quiches and muffins, eggs are a quick low carb breakfast to start your day. For a lower fat option, avoid the yolks and stick to egg whites.
Try this: Eggs and Spinach
For an easy breakfast idea with 2.9g of net carbs, sautée spinach in extra virgin olive oil in a skillet until wilted, then scramble together with eggs.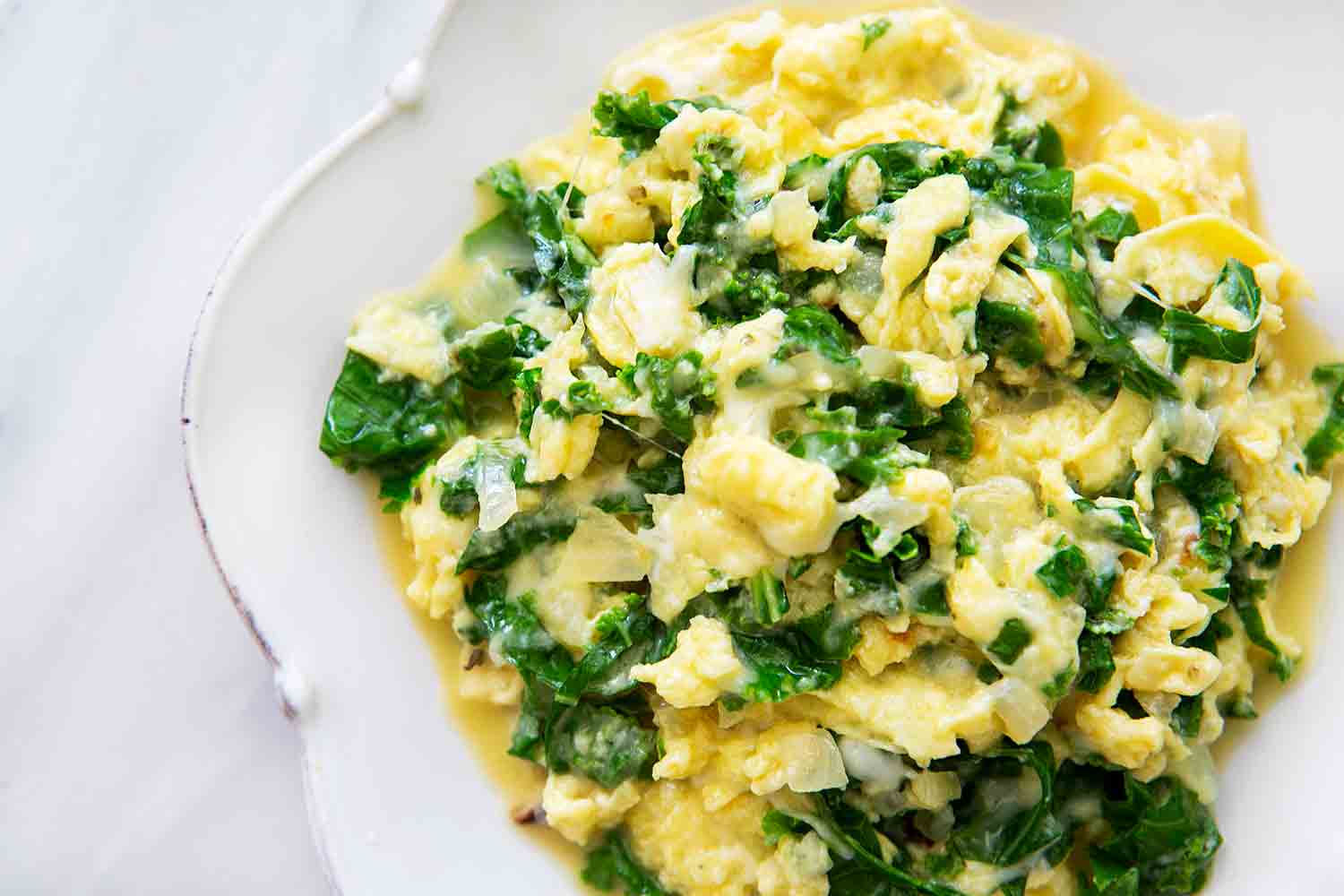 INGREDIENTS
1 tablespoon Extra Virgin Olive Oil
2 cups Baby Spinach
2 large Eggs (Whole)


DIRECTIONS

Add oil to a small skillet over medium heat. Add spinach and sauté until wilted.
Add eggs to skillet and scramble together until eggs are set.

Nutrition:

Protein 13.9g

Fat 23.4g

Fiber 1.3g

Calories 279.7kcal

---

2. Yogurt

Yogurt is a sweet and healthy breakfast option that doesn't require any cooking. Greek yogurt varieties are lower in carbohydrates, rich sources of calcium, can contribute to good digestive health, and are high in protein.

Try this: Greek Yogurt with Berries and Almonds

Mix a serving of greek yogurt with your favorite seasonal berries and top with slivered almonds for a filling, delicious, and fast low carb breakfast. These same ingredients are found in our Blueberry Greek Yogurt Bars which are a great breakfast option when you're on the go!

INGREDIENTS

1/2 cup

 sour cream

1 tbsp

 heavy whipping cream
3 tsp sweetener of choice (I used powdered swerve)
low carb berries
nuts

Optional:

vanilla or other flavoring (I used lemon)

INSTRUCTIONS

Mix cream and heavy whipping cream together. Add sweetener slowly, tasting as you go until desired taste

Nutrition:

Calories: 

145

Fat: 

13 g

Carbohydrates: 

2 g

Protein: 

2 g




---

3. Smoothies

Another way to incorporate yogurt into your breakfast is to blend it into a smoothie. Smoothies are a great way to get a full serving of fruit, along with a healthy serving of protein if you use yogurt. For even more nutritional value, add vegetables like spinach or kale. The endless smoothie combinations make for several easy low carb breakfast ideas!

Try this: Chocolate and Strawberry Smoothie

With 20.9g of protein, try this Chocolate and Strawberry Smoothie for a high protein low carb breakfast that tastes like dessert. Blend the frozen strawberries, milk of choice, protein powder, cocoa powder, and stevia (to taste) in a blender until smooth.

INGREDIENTS

1/2 cup Strawberries, frozen, unsweetened
1 cup Coconut Milk Unsweetened
2 teaspoons Cocoa Powder (Unsweetened)
1 ounce or scoop Chocolate Whey Protein
1/16 pinch Stevia

DIRECTIONS

For this recipe unsweetened coconut, almond or soy milk may be used. Combine the frozen strawberries, milk of choice, protein powder, cocoa powder and stevia (to taste) in a blender. Blend until smooth.

Nutrition:

Protein 26g
Fat 5.1g
Fiber 3.8g
Calories 189.3kcal

4. Proteins

While eggs and yogurt are healthy ways to integrate protein into a vegetarian diet, meat-lovers have several other options for low carb breakfast recipes that are high in protein. Choose protein-packed meats such as chicken, turkey sausage, and turkey bacon to pair with scrambled eggs or a breakfast wrap on a low carb tortilla.

Try this: Sausage and Egg Muffin Cups

Another delicious way to eat meat for a low carb breakfast on the go is to bake ham, nitrate free bacon, or sausage and eggs in muffin tins for high protein grab-and-go bites. With a whopping 31.3g of protein and only 1.6g of net carbs per serving, prep this Sausage and Egg Muffin Cups on the weekend to enjoy throughout the week for a fast, high protein and low carb breakfast.

INGREDIENTS

12 ounces Pork Italian Sausage
2/3 pound Ground Turkey
1/4 teaspoon leaf Dried Thyme Leaves
1 tablespoon Parsley (Dried)
1/8 teaspoon Red or Cayenne Pepper
1/4 teaspoon Paprika
1/8 teaspoon Nutmeg (Ground)
1/2 teaspoon Salt
1/4 teaspoon Black Pepper
2/3 cup chopped Sweet Red Peppers
13 large Eggs (Whole)

DIRECTIONS

Preheat oven to 350°F. Grease a muffin tin with twelve wells.
Combine the sausage and ground turkey until thoroughly mixed.
Add thyme, parsley, cayenne, paprika, nutmeg, salt, black pepper, chopped red bell peppers and 1 egg. Mix together with hands until all ingredients are incorporated.
Divide sausage mixture evenly between the 12 muffin wells. Push mixture up and slightly over the rims of the wells making sure there are no holes.
Crack an egg into each well and immediately place in oven. Bake for 25-30 minutes until eggs are set. Top with cheese and hot sauce or salsa if desired (don't forget to add the extra grams of NC if you do).

Nutrition:

Protein 30.8g

Fat 32.8g

Fiber 0.5g

Calories 436.8kcal

---

5. Lower Carb Protein Bars & Shakes

Sometimes on extra busy mornings, there's simply no time to make breakfast. On days when you're running out the door, grab a Lower Carb Protein Bars & Shakes to get something healthy in your system as you start the day. These lower carb breakfast options will help keep you full and kick-start your metabolism.
                 Try This:  Atkins Plus Chocolate Protein & Fiber Shake
Enjoy a delicious Creamy Milk Chocolate shake to start your day with 20 vitamins and minerals. The Atkins Plus Chocolate Protein & Fiber Shake is packed with 30g of high quality dairy protein, 7g of fiber, 2g of net carbs. It will surely keep your appetite satisfied until lunch.
Choosing a low carb, high protein breakfast will get your day off to a good start and keep your body energized. Get started with Atkins today.
---
For even more great ideas and recipes to start your day strong.
please join our group: https://www.facebook.com/groups/579747826042099/