Best Keto Taco Cups
Keto Taco Cups
Taco shells made out of cheese = the ultimate keto hack. We're basically talking about frico, an Italian cooking method in which cheese is cooked in a pan until slightly crispy but malleable. Here's we're baking little mounds of cheddar and shaping them into handheld cups.
Pro tip:
Cutting parchment paper into individual squares makes transferring the cheese to the muffin tin easier, but you can also carefully peel the cheese off with your hands or use a metal spatula to lift them up. Be sure to give them a minute to cool before transferring
PREP TIME:
0 

HOURS 

10 

MINS
TOTAL TIME:
0 

HOURS 

30 

MINS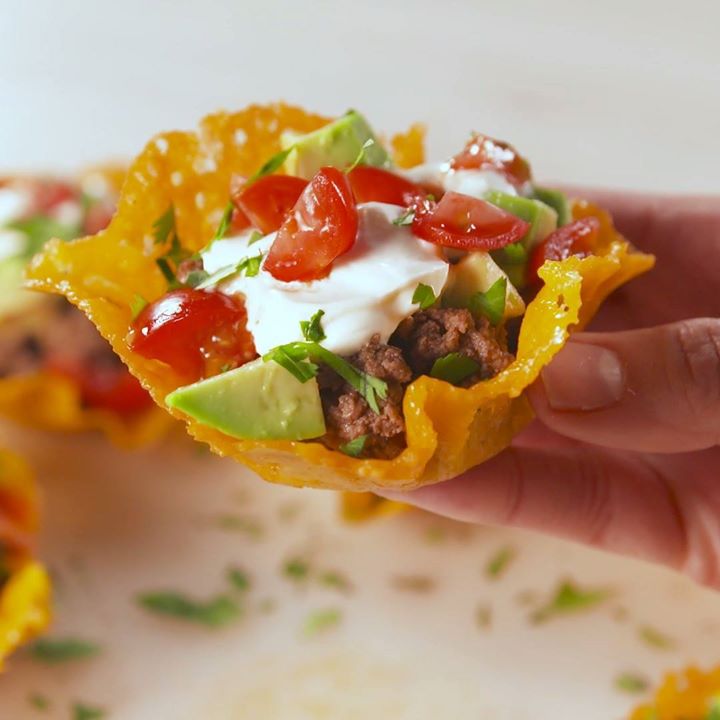 INGREDIENTS
1 tbsp.
extra-virgin olive oil
Kosher salt
Freshly ground black pepper
Diced avocado, for serving
Freshly chopped cilantro, for serving
Chopped tomatoes, for serving
DIRECTIONS
Preheat oven to 375° and line a large baking sheet with parchment paper. Spoon about 2 tablespoons cheddar a few inches apart. Bake until bubbly and edges are beginning to turn golden, about 6 minutes. Let cool on baking sheet for a minute.
Meanwhile, grease bottom of a muffin tin with cooking spray, then carefully pick up melted cheese slices and place on bottom of muffin tin. Fit with another inverted muffin tin and let cool 10 minutes. If you don't have a second muffin tin, use your hands to help mold the cheese around the inverted tin.
In a large skillet over medium heat, heat oil. Add onion and cook, stirring occasionally, until softened, about 5 minutes. Stir in garlic, then add ground beef, breaking up meat with a wooden spoon. Cook until beef is no longer pink, about 6 minutes, then drain fat.
Return meat to skillet and season with chili powder, cumin, paprika, salt, and pepper.
Transfer cheese cups to a serving platter. Fill with cooked ground beef and top with sour cream, avocado, cilantro, and tomatoes.
---
For an easier time peeling the cheese off the parchment, cut parchment paper into 4″ squares so that each cheese disk is on an individual piece of parchment.
Nutrition:
(per serving): 300 calories, 25 g protein, 2 g carbohydrates, 0 g fiber, 1 g sugar, 21 g fat, 12 g saturated fat, 350 mg sodium.