I didn't think chicken tikka masala could really get much better, but then I remembered my fall-time best friend: the slow cooker. This is a curry dish that benefits from a nice, long simmer anyway, so why not let that happen while I'm off doing other things? That's what I call smart cooking.
Spooned over some steamed rice, this easy slow-cooker tikka masala is about to make your busy fall days very happy indeed.
This slow-cooker meal is a near replica of the stovetop chicken tikka masala that I shared a while back. To make it better for the slow cooker — and easier for those of you who need to get this going before heading to work — I streamlined all the steps and made this a simple "dump-and-go" recipe.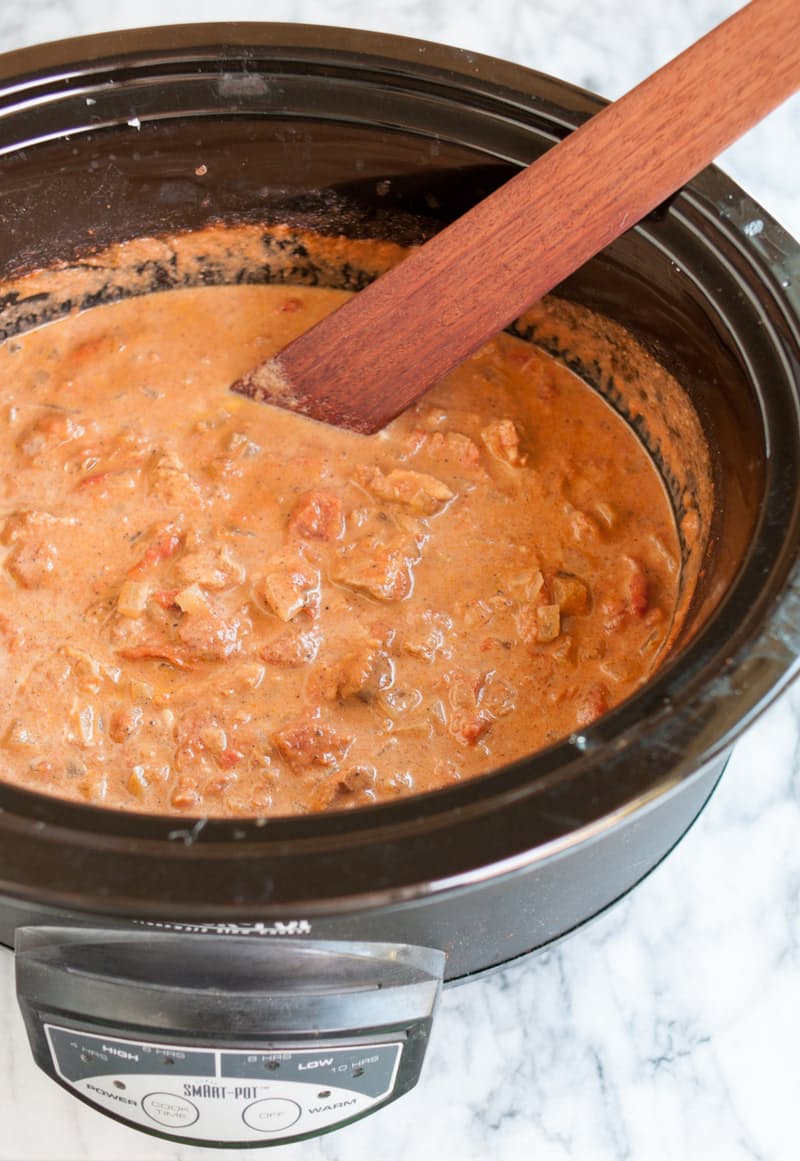 If you have some extra time, I heartily recommend marinating the chicken in some yogurt and sautéing the onions and garlic with the spices before putting everything in the slow cooker. I tried it both ways and, while the extra steps give the dish a bit more depth and nuance, I promise you'll still be happy having this for dinner if you skip them.
Serve this with a simple pot of basmati rice — if you start cooking the rice at the same time you add the cream at the end of cooking, the whole meal is ready at the same time.
Recipe
Slow-Cooker Chicken Tikka Masala
Serves 4 to 6
1 to 1 1/2 pounds boneless, skinless chicken thighs
1 large onion, diced
3 cloves garlic, minced
1-inch piece whole ginger, peeled and grated
2 tablespoons tomato paste
1 to 2 tablespoons garam masala
2 teaspoons paprika
2 teaspoons kosher salt
1 (28-ounce) can diced tomatoes
3/4 cup heavy cream or coconut milk
Fresh cilantro, chopped
2 cups cooked rice, to serve
Cut the chicken thighs into bite-sized pieces and transfer them to a 3-quart or larger slow cooker. Stir in the onion, garlic, ginger, tomato paste, 1 tablespoon of garam masala, paprika, and kosher salt until the chicken is evenly covered with spices. Stir in the diced tomatoes with their juices.
→ If you have the time: Marinate the chicken in 1/2 cup yogurt for up to 6 hours. Shake to remove excess yogurt before transferring to the slow cooker.
→ If you have the time: Sauté the onions and garlic in a little olive oil over medium-high heat in a skillet until softened, then stir in the ginger, tomato paste, and spices until fragrant. Transfer to the slow cooker with the chicken and diced tomatoes. This will give your tikka masala more depth of flavor.
Cover the slow cooker and cook for 4 hours on high or 8 hours on low. Fifteen minutes before the end of cooking, stir in the heavy cream. If you prefer a thicker sauce, leave the slow cooker uncovered for the last 15 minutes. Taste and add more garam masala or salt to taste.




Serve over rice with fresh cilantro sprinkled over the top of each serving. The tikka masala can be refrigerated for 3 to 4 days or frozen for 3 to 4 months.
Recipe Notes
 Chicken breasts can be substituted for the thighs, although I find thighs hold up better over the long cooking and breasts tend to fall into shreds. Still delicious, though!
For a little of that smoky tandoori flavor, try using smoked paprika and roasted tomatoes.
Here's my favorite method for cooking basmati rice in about 20 minutes: How To Cook Perfect Basmati Rice.