What could be more American than a Chevrolet Camaro? The answer might surprise you: A study by American University's Kogod School of Business found that the Toyota Camry (78.5%) and the Honda Accord (76%) both contain more domestic content than the Chevrolet Camaro (68%), which barely edges out the Hyundai Santa Fe Sport (67.5%) and the Kia Sorento (67%).
The fact is, we live in a brave new world where "American" cars are built in Korea, "German" cars originate in Mexico and "Japanese" cars come from the good old US of A. But that's not all—parts for cars assembled in America often come from abroad. That means the cars in a city crowded with GM, Ford and Chrysler products might be less American than one filled with Toyotas and Hondas..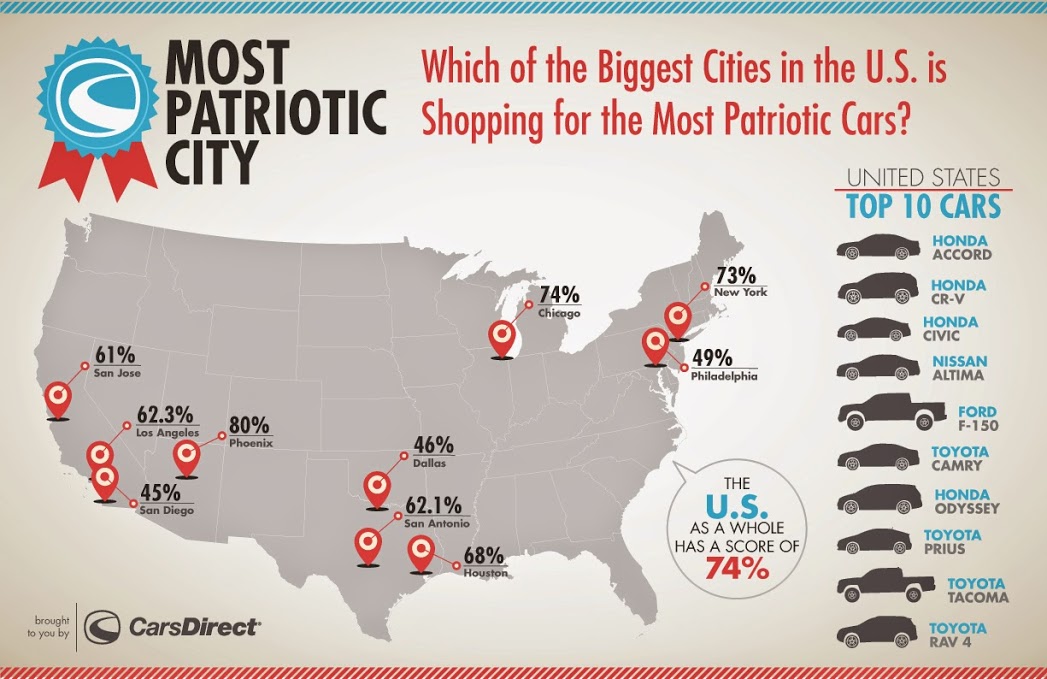 With this in mind, we at CarsDirect thought we'd ask which major cities drove the most—and least— American cars.
Some findings weren't unexpected:-
With a score of 80%, Phoenix was the only major city that exceeded the national average of 74%, which Chicago matched.
West Coast cities have traditionally embraced imports, so lower scores from Los Angeles (62.3%), San Jose (61%), and San Diego (45%) are in line with expectations.
But there were also some surprises:
The American content of cars in Texan cities—Houston (68%), San Antonio (62.1%) and Dallas (46%)—wasn't just middling. All three drive less American cars than New York City (73%).
And it might be the home of the Liberty Bell, but Philadelphia isn't exactly patriotic in its car-buying habits. The American content in its cars is just 49%.
How the list was assembled: We created a "top ten" list of cars for each of the largest cities in America by looking at traffic to individual CarsDirect.com vehicle make/model pages where shoppers choose options for cars. We then used data from Kogod to give each city points based on the cars appearing in its top ten list. Each city's percentage is based on the score they received out of a possible 850 points. (No cars are any longer 100% American.) Please note that the scores are based on a list of vehicles most shopped for and does not necessarily represent the vehicles most sold in the U.S.