BAKED RANCH CHICKEN THIGHS
The Best Easy Baked Ranch Chicken Thighs – delicious crunchy baked chicken thighs in a buttery rich ranch sauce with tender juicy chicken!
Low carb, mess free, a deliciously crunchy crust, in a huge family favorite that is sure to make anyone a fan of chicken thighs in under 40 minutes!
There is something about the tangy, zippy, bright, and salty ranch seasoning herbs that are totally addictive and crave-able – I can't get enough!
this Easy Baked Ranch Chicken Thighs Recipe will become your newest favorite one pot dinner!
These chicken thighs bake up to a delicious crispy crunch on the outside, with tender, juicy meat and a tasty tangy ranch flavor.
If you can't get enough of ranch…. this is going to be your newest obsession.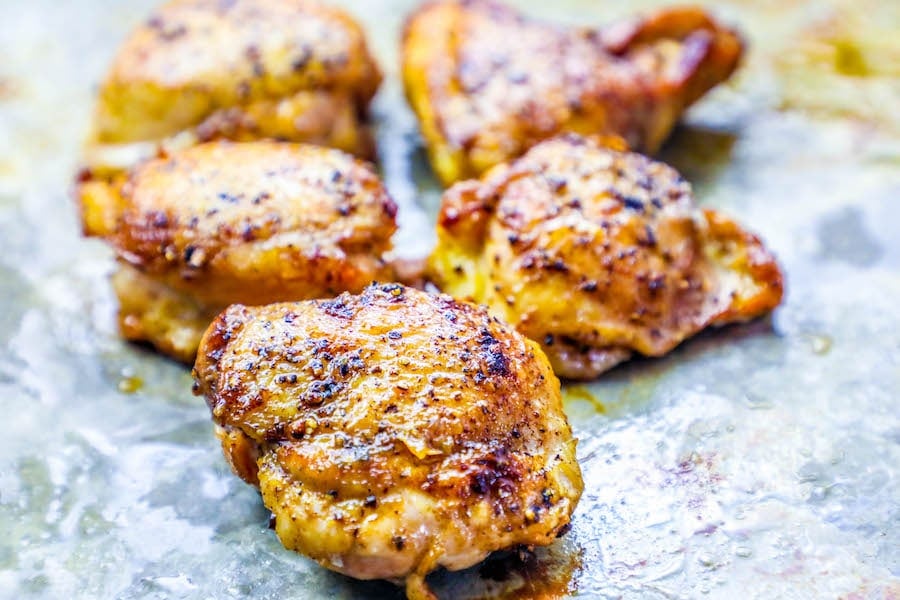 I love ranch dressing seasonings in soups and casseroles, on pork chops and pasta, and on chicken thighs.
These Baked Ranch Chicken Thighs are bursting with delicious ranch dressing flavor – and are a snap to make, and also work into a low carb diet!
These easy ranch chicken thighs are melt in your mouth delicious, and so easy – perfect for meal prep, dinner parties, potlucks, or busy weeknight dinners.
They are great with rice or pasta, grilled veggies, or on their own! And they also taste delicious in sandwiches and salads for a truly versatile and easy chicken thigh recipe you will add to your weekly rotation time and time again!
HOW TO BAKE CHICKEN THIGHS
If you're bored with baked chicken thighs, and looking for a way to make them crunchier, juicier, and with more flavor – these tips will help you to bake perfect chicken thighs every time right in your oven!
PAT CHICKEN THIGHS DRY
Extra liquid and moisture on the chicken will keep the thighs from crisping – pat chicken thighs dry with paper towels before cooking to remove any excess liquid.
This will help the fat to stick to the chicken better, and help the ranch seasoning sink into chicken for flavor.
If your chicken thighs are wet, the oil won't have a chance to really sink in, so remove any excess packaging liquid/water with paper towels.
While you might want to trim off excessive fat, some fat is good on chicken thighs, even if you don't usually like chicken fat.
We're cooking these chicken thighs long enough for the fat to render out and help make a crispy, crunchy outer crust – so don't over-trim your chicken thighs.
This will allow the chicken to naturally crisp and add to the flavor of your chicken, so don't trim too much away.
If you're looking for additional crunchy chicken (especially important since we're using skinless, boneless chicken thighs), you can pop the chicken thighs under the broiler for 2-4 minutes – be careful and watch the chicken closely to make sure it doesn't burn.
I always crisp mine a bit at the end for extra crunch – it makes this baked chicken thigh recipe crave worthy!
If you're often not a fan of chicken thigh texture, unroll the chicken thighs so they lay flat.
This will cook the chicken thighs more evenly, and ensure a crunchy surface on the entire thigh – which makes it completely irresistible, and a bit easier for people who usually shy away from dark meat chicken.
This makes your chicken thighs look a little weird – I have one friend who says they look like aliens – but chicken thighs taste SO much better unrolled, so consider trying it yourself!
When you add to the surface area of the baked chicken thighs, more of it can get a lovely brown crisp, and the chicken cooks faster, to prevent drying out.
Adjust cooktime a bit if unrolling thighs.
HOW TO TELL WHEN CHICKEN THIGHS ARE DONE
If you're looking for the absolute best baked chicken thighs, you need to go off the chicken's temperature – NOT the time listed in this recipe.
Chicken thigh sizes can vary wildly, and differences in oven effectiveness, altitude, humidity in the air – they can all impact your cooking time, making it shorter or longer.
To avoid undercooked or dry chicken, its imperative to cook chicken to 160 degrees in the oven, and let it carryover cook to 165.
Chicken is safe to eat at 165 degrees internal temperature.
Check your chicken thighs regularly as they cook to monitor temperature.
When chicken is cooked to 160-165, it is done in the oven. Do not overcook.
Do let chicken rest for 5-10 minutes before cutting or serving to continue carryover cooking and help chicken rest so juices don't all rush out.
To measure, be sure to insert thermometer in fattest part of meat – without getting too close to bone as it will throw off temperature.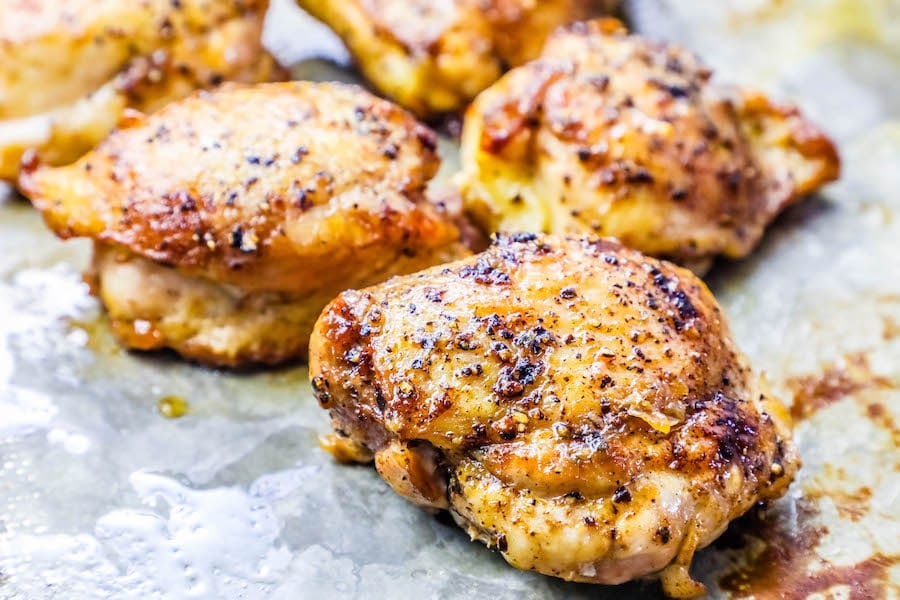 Nutritional Info
Servings: 4
Calories: 178.5
Total Fat: 1.9 g
Cholesterol: 68.5 mg
Sodium: 748.6 mg
Total Carbs: 9.1 g
Dietary Fiber: 0.4 g
Protein: 28.3 g
ENJOY!